2018

 CURAÇAO BUSINESS POINT CONFERENCE

JANUARY 9-11
2018

 CURAÇAO BUSINESS POINT CONFERENCE

JANUARY 9-11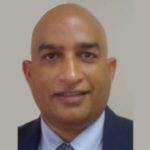 Team Leader and Key Expert on the 10th EDF Funded COSME Project
Dr Michael Seepersaud is a trained Economist and Management Professional with over 30 years' experience supporting the development of SMEs, promoting quality and standards, strengthening supply chains and conducting SME Policy and Legislation studies.
His expertise includes micro finance, sector assessments and formulating country-specific strategies. He has developed, and led the development of, technical standards to promote SME Competitiveness and has promoted Quality Infrastructure value chain throughout CARICOM and the EU Caribbean Overseas Countries and Territories (OCTs).
As a business development consultant, he specializes in providing technical support to SMEs and developing, administering and evaluating SME support programmes. His sector experience covers agro and food processing, agribusiness and light manufacturing and services.
In addition to his academic qualifications, which includes a PhD in Economics, Dr Seepersaud holds a Specialization Certificate in Entrepreneurship (University of Maryland) and a Certificate in "Design Thinking for Business Innovation" (University of Virginia) and "Innovation and Entrepreneurship" (EIT Digital).